Welcome to B&H Garden Room
Breakfast - WEEKEND Brunch - Dinner - Cocktails
A new Bourne & Hollingsworth rooftop restaurant and bar with panoramic views of London situated in the heart of the West End.
Taking over the 10th floor of Assembly Hotel on Charing Cross Road, B&H Garden Room features pared back, classic interiors with delicious seasonal food, signature cocktails and the finest 180-degree views of London.
Serving breakfast through to dinner, B&H Garden Room is for your special dinner, easy weekend brunch, the quick pint after work, late afternoon coffee, or a lazy, refreshing cocktail all set to the picture-perfect backdrop of London's skyline.
Vast floor to ceiling glass windows frame the room, offering every seat in Garden Room spectacular views across central London. Iconic landmarks, such as the London Eye, The Shard and Nelson's Column, can be easily spotted providing an unmissable, stunning backdrop for dinner and drinks.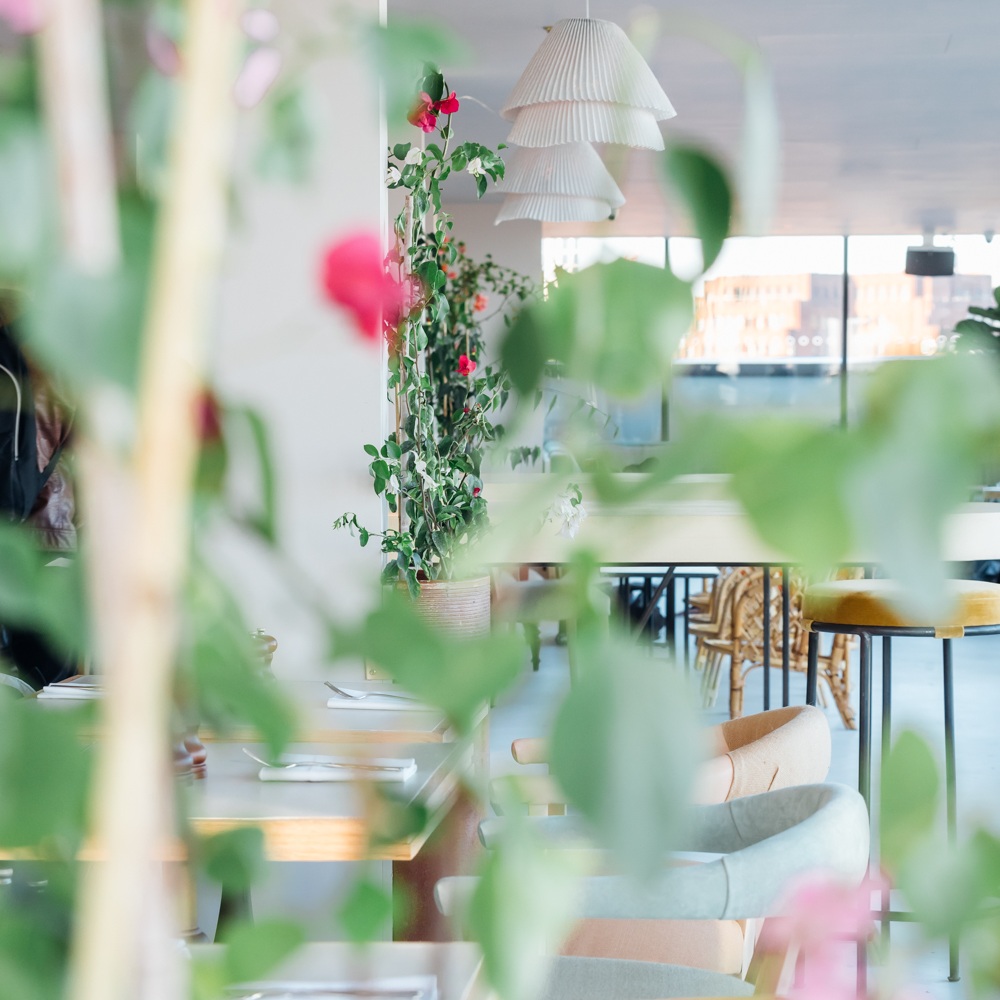 B&H Garden Room is ideally located on Charing Cross Road, providing easy access for every occasion. With Soho, Covent Garden and Shaftesbury Avenue just a stone's throw away, Garden Room provides a respite from the busy streets of London's theatre-land.
Designed by head chef Anthony Horn, the menu at B&H Garden Room features his modern take on classic European fare. Always seasonal and always locally sourced, our menus can cater to all dietary requirements so there is something for everyone.
We have a whole host of tried and tested menus to fit every event, from business breakfasts to wedding buffets, and Anthony is always on hand to build or adapt a menu around your requirements. We are happy to offer tasting sessions with your event organiser and the head chef, and these can be booked as early as two months prior to your event. The food costs will be deducted from your agreed minimum spend.
Pared back, classic interiors with whitewashed floors are juxtaposed with playful Aztec-style prints, tapestries, wrapped suede and wrought iron edges. Throughout, there's stunning wicker and beautiful bespoke rattan furniture, reupholstered with thick patterned fabrics to create a refreshing and charming dining experience.
The whole room is filled with a plethora of living, green, organic plants; from fully-grown trees, trailing creepers to leafy statement plants, bringing the outside inside. Outside a living, breathing window box meadow circulates around the entire room, where herbs and seasonal plants grow year-round.
At the bar, the group's cocktail maestro, Jim Wrigley, has worked closely with executive chef, Anthony Horn, to create a range of mixed drinks that incorporate the same fresh herbs and spices used in the food. Cocktails, as always, will be the star of the show. Highlights include: